Heya! This is my HD texture pack page for Zelda Majora's Mask 3D!
Psst! I also have a HD texture pack for Zelda Ocarina of Time 3D!
Some general info regarding this texture pack which you should read before you download it;
This texture pack is not complete. There are more than half of the textures left to work on, so please be patient and lower your expectations slightly if you expected this to be complete, which it isn't.

There are ~7400 unique textures in the game ( I have tried to dump every single one, however I may have missed a few ). Out of these textures a few hundred have been completely re-textured or upscaled to look substantially better than the original. Other textures have been left untouched until I've worked on them. The textures that I've upscaled have been so using waifu2x-caffe using these instructions by Bighead and GigaPixel AI by Topaz Labs (fantastic tool, I highly recommend you try it out! It works for all kinds of images). Some filtered textures have been modified or changed entirely to look better as well. In many cases, filtered textures look worse than the original textures so that's why I've decided to leave many of them untouched until a later point.

It is very important to me that the texture pack stays faithful to the original vision. This means that I try my hardest to make new textures look like higher resolution versions of the original textures, and not like brand new textures or out-of-place mashups.

I am completely up for suggestions, changes and submissions. You will of course be fully credited for any work you submit. These are still very early days and there is much work left to do.

The pack is scaled to 8x the default resolution , this means that ( if the internal resolution is increased in Citra ) you may be able to view some textures at a staggering 6400x1920 resolution!

This texture pack is for Zelda Majora's Mask 3D only. There are no plans to port it to the N64 version, that and there are some amazing texture packs for the N64 version available already available already.

This texture pack will work with any custom mods / hacks of Majora's Mask 3D as long as they don't add new textures or change old ones (in that case, conflicting textures will be overwritten by one another but it will still work). This includes full support for the Project Restoration mod by leotlino!

I highly recommend that you use this along 'Project Restoration', a fantastic mod which restores a lot of the (subjectively) bad changes made to Majora's Mask 3D over the original.

This is NOT the same texture pack that is being worked on by Nerrel, DeathWrench among others. Their project is turning out to be absolutely incredible and I highly recommend that you check it out here; https://github.com/DeathWrench/MM3DHD/releases/

This texture pack does not include material maps since Citra does not support this feature yet.

It works with all versions of the game, including the PAL/JAP/KOR versions of the game.

The total file size of the texture pack is roughly 9.2GB on the 4K version, and 2.7GB on the 1080p version.

Post-Processing is enabled by default through ReShade and you are free to alter it to make the game look exactly how you want it. However, since Citra does not output proper depth information (well, it does but it's flipped 90°) you can not use some shaders like Depth of Field or SSAO. Color grading works flawlessly though. If you would like proper depth data in Citra, ask the Citra developers if they can add an option to rotate the depth buffer our output clear depth data somehow (I'm not a Citra programmer so I don't know how it works!).
Change log:
Future changelogs will be posted on my website, to make it easier to maintain and keep up to date.
1.2:
Over 300 new 4K textures!
Full support for Project Restoration by leotlino.
4K custom text font for ALL messages in the game.
Much simplified installation for beginners.
Updated textures include the UI, text, terrain, buildings, enemies, NPCs, Link and his various mask forms and much more.
Now includes ReShade with a custom graphics preset enabled by default (can be tweaked however you like).
Minor changes and bug fixes.
1.1.0:
Over 500 new textures! Massive release.
New 4K option added, doubled resolution! (Warning: Large file size, 11.7GB!)
Fixed the infamous corruption bug once and for all.
HD title screen
1.0:
Video preview (1.5)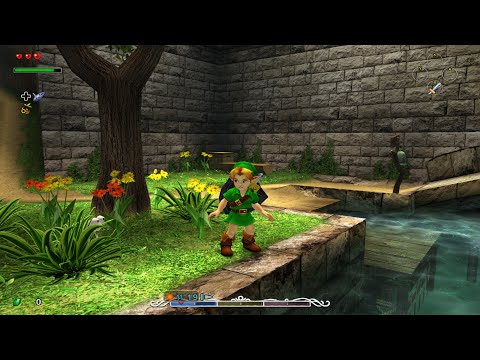 Tutorial Video + How To Install Project Restoration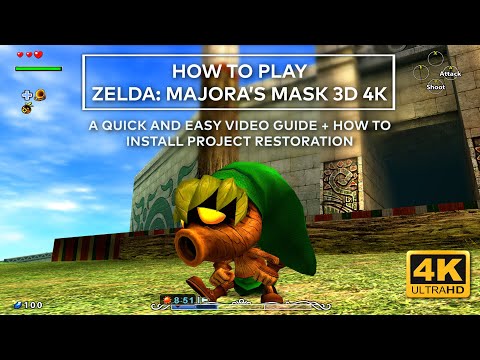 Progression: ~80% done. I focus on the most important and prevalent textures first.
Installation guide:
There is no installation anymore! Simply download the texture pack and follow the short guide provided in the download. You should be up and running in less than a minute. YOU MUST DUMP THE GAME FILES YOURSELF. DO NOT ASK FOR THEM HERE OR ANYWHERE ELSE FOR THAT MATTER. Thanks!
If you encounter any issues with the texture pack please post them in the comments of this post, or PM them to me on my Discord server.
Enjoy!
If you want, become a Patron on Patreon and support my work! You also get early access to updates to my texture packs, priority support and other goodies!