Hello! This is my HD texture pack page for Zelda: A Link Between Worlds!
Psst! I also have HD texture packs for Zelda: Ocarina of Time 3D, Zelda Majora's Mask 3D, Zelda: Twilight Princess, Zelda: Skyward Sword, Wii Sports, Luigi's Mansion, Super Mario 3D Land, Pikmin 1 & 2 and Super Mario Sunshine!
Some general info regarding this texture pack which you should read before you download it;
There are ~8800 unique textures in the game (I have tried to dump every single one, however I may have missed a few). Out of these textures a few hundred have been completely re-textured, including all text and the user interface. Some other textures have been been up-scaled using A.I upscaling. Many filtered textures have been modified or changed entirely to look better as well. Many textures remain completely untouched until I've worked on them since some textures look bad when upscaled.

It is very important to me that the texture pack stays faithful to the original vision. This means that I try my hardest to make new textures look like higher resolution versions of the original textures, and not like brand new textures or out-of-place mashups.

I am completely up for suggestions, changes and submissions. You will of course be fully credited for any work you submit. These are still very early days and there is much work left to do.

The 4K version of the texture pack is scaled to 8x the default resolution, this means that (if internal resolution is increased in Citra) you may be able to view some textures at a staggering 6832x3480 resolution! The 1080p version is scaled to 4x the default resolution, which results to slightly above 1080p. The higher resolution of the pack will look sharper, even if you're not using a 4K display.

This texture pack will work with any custom mods / hacks of Zelda: A Link Between Worlds as long as they don't add new textures or change old ones (in that case, conflicting textures will be overwritten by one another but it will still work).

This texture pack does include custom material maps for some of the new textures, since the game utilizes normal maps by default.

It works with all versions of the game, including the PAL/JAP/KOR versions of the game. Many region specific textures have not yet been remade in 4K yet, however.

The total file size of the texture pack is roughly 600MB for the 4K version, and 250MB for the 1080p version. The texture pack only includes the new textures, hence the relatively small file size.

A custom preset version of the Citra Emulator is included with the texture pack to make the setup as easy and painless as possible.

It works on Windows, MacOS, Linux and Android! A fast hard drive, like a M.2 SSD, is recommended to reduce stuttering when loading in new textures.

If you don't like the way my texture pack looks over the original version, please note that all post processing can be modified easily from user to user to fit your own preference, you can make it look however you like. Press the "HOME" key on your keyboard while in-game to open the ReShade menu, where you can edit the post processing to your heart's content!
Video preview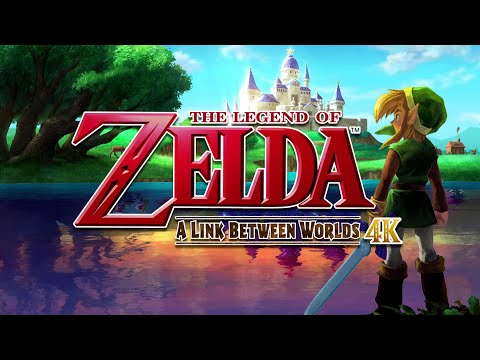 Screenshots:
Note: All comparison shots have been taken with the exact same settings in Citra with internal resolution set to 7x and Linear Filtering enabled.
Progression: ~20% done. I focus on the most important and prevalent textures first. The texture pack is completely playable all the way through, but expect many textures that haven't been upscaled yet. Most of the UI has been reworked already and the rest of it should be finished by the beginning of 2022. Common environment textures in the overworld and dark world have been completed already, as well as fonts and text boxes.
Installation guide:
The installation is extremely simple. Just download the texture pack and extract the folder somewhere on your PC, then open the Citra emulator using "Zelda ALBW 4K.exe" and start the game (using your own dumped rom, it is NOT included with the texture pack). Run the included script to change the textures to load on the European version of the game if necessary, which is included in one of the folders. Enjoy!
If you encounter any issues with the texture pack please post them in the comments of this post, or PM them to me on my Discord server.
Enjoy!
If you want, become a Patron on Patreon and support my work! Patrons also get early access to all updates and private support from myself to help with any technical issues you could be having!